Want to know how to get free cash?
Who doesn't want to see more money in their bank every single month?
Over the years, online survey sites have become extremely popular. They can help you generate extra cash when you need it, although they won't make you a millionaire.
For a lot of the survey sites you give a few minutes of your time in exchange for a few extra dollars. So in order to rack up enough money, you'll need to spend more time on them.
All the survey sites listed below are completely legit and you can earn a good amount if you take advantage of more than one.
Finding legitimate online survey sites that provide decent income can be difficult, especially when there are so many scammy websites out there.
Which is why i've made it my mission to bring you 9 fantastic survey sites to kick your multiple income streams into gear!
How survey sites work
Imagine a world where you actually receive money for giving somebody your opinion.
Well this is the world of survey sites and you could legitimately make at least $500 extra cash each month doing just that.
You will need to sign up to these sites and usually have to answer a few questions before you qualify to earn money.
Things to Remember
Unfortunately these sites won't make you a millionaire overnight but they will put some extra cash in your pockets and help give you that kick start into creating a side hustle!

The more survey sites you sign up to the better, because you may not qualify for every survey that comes your way. To make a good amount of side income make sure you sign up to a few of these sites.
Make sure the emails from the survey sites aren't going into your spam account (this happens more frequently than you know).
As with everything in life, the amount of money you make from these legit survey sites will depend on the amount of time and effort you are willing to put into it.
1. Swagbucks
Swagbucks tops my list for being an extremely reliable and respected survey site company. They've been around for over 10 years and have great ratings on Trust Pilot.
Their members have earned over $250 million in rewards to members all over the world since they first opened their doors.
Swagbucks offer flexible earning options such as:
Answer surveys

Playing games

Simply browsing the web

Online shopping

Watching videos
You earn Swagbucks by doing any of the above and can then redeem these 'bucks' for money via Paypal or gift cards.
Also, with Swagbucks, you can earn up to $35 per survey. This is definitely the first survey site you should try today!
Who are they? Swagbucks are probably the largest and most reliable survey site. They pay out cash rewards as well as vouchers for playing games, shopping online, surfing the web and watching videos.
To earn points by browsing the web, all you need to do is download their browser search bar and every time you search on the web for anything you earn points.
You can start earning today with a $5 SIGN UP BONUS through this link (limited time only).
Their site is easy to use, sleek and simple to navigate around and you can have fun whilst at the same time earn cash money!
They have a great rating of 4.3 out of 5 on TrustPilot so they are definitely to be trusted.
2. Respondent
Respondent is really classed as a survey site, but more of a market research platform.
They are a company that provides qualified research respondents to whichever business needs it.
Basically, they bring the researchers (the company) and the qualified respondents (that's you) together all in one place.
Anyone, who can qualify for each research study needed will ultimately get the cash.
You are able to take part in various surveys with Respondent as long as you have a Paypal account.
Respondent really are a legitimate research/testing site that offer remote projects suitable for everybody.
You can earn from $25 up to $200. The length of study varies from as little as 15 minutes all the way up until 120 minutes.
Pick one that suits your time frame a budget!
Get signed up here to start earning!
3. LifePoints
LifePoints is a free online platform with over 5 million members that rewards you for completing surveys and other activities like mini-polls, product testing, and behavior tracking. They have paid out over $22 million to their members to date.
Reward rates vary by survey; some might pay 60 LifePoints while others pay 350.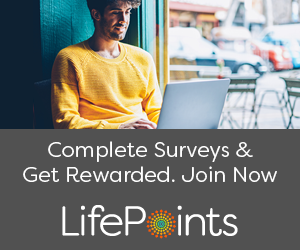 So, how much are LifePoints worth? It depends how you redeem them…but somewhere between 8.3 and 9.09 cents each. In simpler terms, you can redeem 550 LifePoints for a $5 gift card.
When you've accumulated enough LifePoints, you can redeem them for your choice of:
PayPal credit
Electronic gift card
Charitable donation
How many points are enough? If you want to donate $1.80 to UNICEF, you can do it for just 205 points. For a $5 Amazon gift card, you need 550 points. The smallest PayPal credit you can claim is $10, and that costs 1,200 points.
Earn Rewards Fast – I like that you can cash in your LifePoints for a gift card with as little as 550 points. Realistically, you could earn that within the first week.
4. Survey Junkie
Survey Junkie, with over 10 million users, are one of the top paid survey sites around.
They describe themselves as 'The most popular spot online to earn cash and rewards for sharing your thoughts' and I agree!
They launched in 2010 and have been dedicated to connecting end users to businesses ever since.
As an end user you complete paid online surveys and get rewards, whilst the company involved uses your opinion to make various business decisions.
Their site is optimised fantastically for mobiles, which means you can complete survey whenever and wherever you fancy.
They payout via Paypal (which is a plus point) and also Amazon gift cards.
To join Survey Junkie you must be at least 13 years old and live in Australia, the US or Canada.
They have been around for a while and are definitely a site you can trust!
5. Vindale Research
Vindale Research are another legitimate site to earn money by completing surveys online.
Being in business for over a decade, the process is simple; take survey, earn points, redeem points, get cash!
With Vindale Research you'll earn extra cash for referring your friends too! They'll pay you $5 for every friend you refer..
The amount of pay from this survey site varies.
You could earn anywhere from $1 up to $75. With the top tier being a little more in-depth, such as a product review or task.
The amount you earn will depend on the survey and duration.
Survey topics include:
Cars/trucks
Popular restaurants
Home improvement
Health & Beauty
and so much more!
You are sure to find surveys that suit your background and earn you cash at the same time. Such a secure reliable site, you should check them out!
Click here to get a $1 sign up bonus and earn up to $75 per survey
6. Inbox Dollars
You search and browse the web on a daily basis anyway right?
Well why not earn some cash while you're at it?
Inbox Dollars allows you to earn extra cash for your everyday online activities.
According to InboxDollars' website, they have now paid out over $56 million of cash rewards.
They have partnered with some of the most trusted brands in retail, technology, and Market Research to deliver rock solid earning opportunities for consumer like you!
Simply sign up using this link and you'll get a $5 starter bonus
They also run a UK equivalent of the site called Inbox Pounds (UK only) and offer just as much in rewards as their friends across the pond.
Make sure you watch out for their emails as these can earn you fast cash.
You'll be able to earn money from day one, with little effort, regardless of which activities you choice to focus on.
Their site is so simple to use, as are all of my selected survey sites.
Enter a few details and your good to go!
7. Global Test Market
Global test Market started their survey site way back in 1999 and have been going strong ever since.
This survey site removes the hassle so you can focus on giving your opinions and getting rewarded at the same time.
You often get to give your opinion on products consumers use on a daily basis and many that haven't even hit the shelves yet!
Getting feedback for their clients really matters to them, which is why you get rewarded!
The points you earn from these surveys, you will be able to redeem for rewards such as cash via Paypal and gift cards from Amazon.
8. Prize Rebel
Prize Rebel are another great company, mainly because they are adding new surveys every day. So you can make money earning points from each survey and then redeem them for cash or gift cards.
They aren't a scam site as I've earned money from them and they are legit!
It's free to sign up and their site is easy to use. Sign up Here.
9. MyPoints
Join here:
Get $5 when you take 5 easy surveys!
MyPoints allow you earn points by taking surveys, watching videos and even shopping at your favourite stores! They are an extremely easy to use and trusted site, with 4.4 stars out of 5 on Trust Pilot.
Their rewards are no different to the ones offered by all of these survey sites.
Like with the other sites, you will earn points which you can then redeem for cash via Paypal and gift cards.
You could earn up to $50 per survey!
Simply sign up for a FREE MyPoints account today and get earning now!
10. Pinecone Research
Pinecone Research happen to be one of the highest paying survey sites out there.
For each survey you complete, you'll earn $3 cash!
Not bad in exchange for giving your opinion.
As a result of taking part in surveys, you'll earn points. You can then exchange your points for giftcards from Amazon, Starbucks, and so much more!
The amazing thing about Pinecone Research is that you only have to accumulate $3 in your account before you can begin withdrawals.
Making the money available to you when you need it!
The great things about Pinecone is that you can also test new products from businesses even before the get released.
How cool is that?
You get the luxury of trying new products for FREE! It really helps the businesses decide if the product is ready for market or not.
Click on the links below if you're ready to find out if Pinecone Research is for you.
If you live in the USA, click here >>, UK, click here >>, Canada, click here >>
Give it a go..TODAY!
As you have seen, taking online surveys can be a great way to bring some extra income and there there are many paid online surveys to choose from.
Nowadays it's much easier to earn money for taking part in surveys.
As i mentioned before, they won't make you rich but can help you pay small bills every single month. If you work at it, you could potentially earn between $300 and $600 every month.
Weed your way through them, to find the one that works for you. No matter the survey site you choose, stick with it and keep going.
You'll be surprised how much extra cash you'll be able to rack up every month.
Good Luck!
Follow us on

PINTEREST

for more money making tips!