This is definitely the year to be making money. But what do you do when you need money fast…. as in yesterday?
Whether you need extra cash to pay an urgent bill or have recently been laid off, I'm going to go through some ways to get cash quickly. Some methods will take longer than others, while some pay more than others.
If you try out a combination of the ideas listed below then there's no way you can't make $200 fast!
If you're broke and payday seems to be getting further and further away, this is the perfect post for you!
Put in the work and effort and you are sure to see results.
The list is updated daily so definitely keep checking back for more ideas and tips.
💡 But First, want to get FREE cash today?
Here are a few platforms to
earn up to $150+
and be set up in a few minutes!
Survey Junkie: Earn up to $50 per survey! Fast and simple to earn money! Sign Up Here!
Life Points: Get 10 Life Points just for signing up.Sign Up Here!
Respondent: Earn up to $150 an hour! Make big $$$ per completed study! Sign Up Here!
Swagbucks: Free $10 Bonus! Get paid to watch videos, play games, and shop online.
1. Watch videos for free Paypal cash
Swagbucks is an amazing online portal that literally offers you free money. Not only do you get a free $5 just by signing up, but there are a multitude of ways you can earn money off of this site including:
Watching videos
Playing games
Completing surveys
Surfing the web
You earn Swagbucks by doing any of the above, racking up points which you can then convert into cash via Paypal or gift cards.
How much can I earn?
To give you an idea of typical earnings; 620 SB (swagbucks) is equivalent to a $5 gift card, so the best thing to do is search for the higher paying 'tasks' and start smashing those out.
Sign up here and get a $5 BONUS straight away.
2. Share your opinions
Survey Junkie, with over 10 million users, are one of the top paid survey sites around.
They describe themselves as 'The most popular spot online to earn cash and rewards for sharing your thoughts' and I agree!
They launched in 2010 and have been dedicated to connecting end users to businesses ever since.
As an end user you would complete paid online surveys and get rewards, whilst the company involved uses your opinion to make various business decisions.
Their site is optimised fantastically for mobiles, which means you can complete survey whenever and wherever you fancy.
To join Survey Junkie you must be at least 13 years old and live in Australia, the US or Canada.
How much can I earn?
The majority of surveys take roughly 10-15 minutes to complete and these are generally worth between 100-200 points.
Once the points are converted to cash, this works out to approximately $1-$3 per survey. Not life changing, however you can sometimes find surveys worth as many as 1000 points which would be worth $10.
They payout via Paypal (which is a plus point) and also Amazon gift cards.
Sign up here and start earning cash today.
3. Set up a dropshipping store
Dropshipping has been one of my favourite ways of online money online ever since I opened my own dropshipping store in 2018.
Not only does it potentially have low start ups costs, but it is also extremely easy to get started. Like today!
The possibilities with dropshipping are endless, whatsmore you can eventually turn this money maker into a legitimate branded business model and earn money passively.
Read my step by step guide on how to get started with Shopify and a get FREE 14 day trial today. You literally have nothing to lose.
This is my #1 recommendation to build a long term business model that earns you REAL money! It's super simple to get started and doesn't require heaps of money.
You need to have the knowledge to start seeing returns in this business, so definitely check out my post here.
How much can I earn?
This has been one of my income streams since early 2018 and I also personally know people making anywhere from $3,000 to $15,000 a month.
Sit down and work out your profit per product and times that by the amount of potential sales each month. 300 sales of a 'trending' and popular product is NOT unreasonable.
I always go for a margin of between 40-50%+, so you could be earning $3,000 a month.
Start today with your own dropshipping store today!
4. Get cashback on purchases
Formally known as Ebates, Rakuten is an online cashback site that has been around since 1998. Rakuten is a great way to earn a little extra income to stash away each month.
It is a cashback site, so you do have to spend some money to be eligible for any back. However, if you are purchasing each month anyway, you won't have anything to lose.
The good news is they partner with some of the biggest name brands:
Macy's
Sephora
Staples
Walmart
Kohl's
Keurig
Overstock
eBay
Etsy
and much more
How much can I earn?
Rakuten has cashback offers ranging from 3 – 15% and they work on a quarterly payout system, meaning you get a payout every 3 months via Paypal or cheque.
You will get entirely free money just by signing up – as they give you a $10 sign up bonus.
Get more free money when you recommended a friend who makes a purchase – you'll receive $25 each time!
Put those hundreds of facebook friends to use 🙂
5. Walk dogs locally with Rover
Love dogs, why not try a dog walking & pet sitting service such as Rover. All you need to do to start earning money with this site is complete a brief application.
Rover offers a flexible schedule, easy payments, and the joy of getting paid to play with dogs.
3 steps to getting started:
Create your profile – Make your application stand out by including all of your pet sitting experience. Throw in some pet pics and images of where the dogs will be spending their time. Trust me this helps!
Wait for review – Allow Rover to review your application and wait for approval!
You are now open for business – Pet owners within your local area can now contact you with requests. You can get paid within 48 hours of completing the jobs.
How much can I earn?
You can treat this 'job' like any other part time hustle meaning if you dedicate more time to pet sitting you can earn more money.
The fees at Rover vary depending on time of the day and duration, however at Rover you expect to earn on average $20-$30 per hour (after fees).
With bigger bucks paid for pet sitting over the weekend. The more hours you put in the more money you could potentially make..
6. Offer your services
If you have a specific skill, talent or ability to offer up as a service to potential clients, there is definitely a way for you to make money online.
Typical services offered online include:
Design services – creating logos, packaging design
Video editing – edit videos, photos and create clips or intros
Administrative detail – become an assistant performing general tasks such as answering calls, emails, dealing with social media etc
Website editing – writing code, updating websites/blogs
With platforms such as Fiverr, you don't need to go searching for potential clients to offer your 'freelance' services to.
They will come to you!
Simply create a "gig" using their site and wait for clients to contact you with their requirements.
Freelance sites like Upwork and Flexjobs enable people to make a full-time income online without having to search for clients.
Learn how to start a money making freelance career here.
How much can I earn?
'Gigs' on Fiverr pay anywhere from $5 and are unlimited depending on how specialised the service is that you're offering.
So if your just starting out by designing a logo for somebody, offer $5 to start and then as you build your portfolio you could start charging in the hundreds.
Find people immediately by searching for jobs in your local area or advertising yourself on facebook.
7. Rent out your parking space
If you have your own driveway or allocated parking space, there is serious money to be made by renting our your car parking space to other locals.
The amazing thing about this side hustle is you could be earning cash whilst your at work or away on holiday! If you have a spot that you never use or self contained garage, that's even better!
Apps like Getaround, Spacer and JustPark allow you to rent out you parking space for as little as an hour or for the whole year if you'd like.
Check them out!
8. Join Respondent
Respondent is a system of record for research respondents, a company that provides qualified research respondents to whoever needed it.
Basically, they bring the researchers (the company) and the qualified respondents (that's you) all in one place.
Anyone, who can qualify for each research study needed will ultimately get the cash.
You can take part in a variety of surveys and the best thing is they can usually be completed from anywhere in the world.
One requirement of the money making research site is to have Paypal.
Respondent offers a huge database of one on one interviews/projects, so you should definitely be able to find a project that suits you.
How much can I earn?
You can earn from $25 up to $200.
The length of the studies vary; ranging from 15 mins up to 120 minutes. Take a look at each study in detail to see what information you'll have to give in exchange for pay.
If you have more experience in a more technical study, you can make a lot of money in a short amount of time.
9. Become a Transcriptionist
Transcription is fast becoming one of the best freelance typing jobs for stay at home moms. You have the freedom to choose the amount of workload and set your own hours.
The job of a transcriptionist is to listen to an audio file and convert this information into text.
What will you need:
Qualifications include being a fast typist & good listener
Excellent Grammar
Fluent in the language you are transcribing
A computer
High speed internet
High-quality headphones
Here's a link to a fantastic FREE mini-course on how to maximize your transcribing profits!
How much can I earn?
It isn't the most exciting of jobs but you could earn anywhere from $15 to $45 an hour, if you're really good.
10. Buy, Sell, FLIP & Repeat
Another great little side hustles that generates extra cash quickly is the traditional form of buying and selling! You would search for and buy items in thrift shops, online or while they're on sale at the supermarkets.
You would then 'flip' them for a profit. You could either do this online on sites such as Ebay, Amazon and Craigslist or hold a garage sale to flog the items at a higher price.
This is something people do every day to make a full time income!
Ebay is a great place to resell items, you could sell books or toys!
Work out the profit margins, start with a low budget and then as you sell more and more, put the profits into buying more stock in bulk at a lower price.
Just like any business, it really depends how much effort and time you put into this little side hustle.
Reselling for a profit, is a tried and tested side hustle and is something you should try today!
11. Get Reading
There is legitimate money to be made just by reading a few articles each day.
Proofreading has quickly become one of the highest paying online jobs because of the amount of companies requiring this service.
There are a few websites and organizations that hire freelance proofreaders and editors to work for them.
These sites pay the freelance proofreaders either on an hourly or per assignment.
If you want to get hired as a proofreader, you will need to have great reading, writing and editing skills.
How much can I earn?
Most of these online proofreading jobs pay between $12 and $40 per hour.
If you want to find out if Proofreading is for you, check out this FREE Proofreading Workshop By Caitlyn.
12. Make money with your camera
If you are great with your camera, you could earn quick money by taking amazing quality 'stock' images and selling them to stock sites online.
A stock photo is an image that a photographer has made available for commercial purposes.
Stock image companies are always looking for new images to add to their sites, so the more quality images you take the better.
The key here is to do some research into trending products, topics and keywords to gain insight into what people are looking for.
Google trends is a fantastic and free way to do this. Landscape and lifestyle pictures are great sellers.
Turn this into a full-time income by joining sites such as Alamy and Pond5. Photographers on Alamy are already selling their stock imagery on Alamy to over 100,000 customers worldwide.
Pond5 is a site that allows you to sell all sorts of media, such as music tracks, video, images and sound effects.
Foap is also a great option to turn your videos and pictures into extra cash. Money you can spend on developing your photography skills.
How much can I earn?
Commissions vary from site to site, but when you upload your creative work on Pond5, you can set your own price, and earn 50% of each sale.
This is great because for an image you take once, you can earn a recurring commission passively.
Foap split the profits 50/50 which is amazing if you are just starting out!
13. Create and sell an eBook
If writing is your thing, why not create an ebook and sell it on your own website, facebook, instagram or even Amazon.
There are people who love to read and if you have something that they can learn or be entertained by, chances are you can sell it for cash.
It's really easy and FREE to self-publish and sell your books online through Amazon.
Through Kindle Direct Publishing, you can publish your book in less than 5 minutes and see your book appear on Kindle stores worldwide within 24-48 hours.
How much can I earn?
Commissions from online book sales range from 5% all the way up to 70%.
The best way to start earning big cash from book publishing is to start with a price of $0.
Yes, offering the book for free will not only bring you customers but also increase your 'BSR' (best sellers rank).
Your BSR is a ranking of Amazon's best sellers – and this my friend is golden!
Once you have a few great reviews and have moved up on the rank, you can slowly increase your price and make money passively!
How great is that? 5 sales a day at $5 per sale is still $25 a day you didn't have, and for something you only had to create once!
14. Become an Affiliate without a blog
Affiliate marketing is a relatively low barrier to entry money making opportunity.
It involves the affiliate (that's you) referring/promoting a businesses product to potential customers. You get paid a commission amount, when that customers purchases that businesses product.
The process is pretty simple, however you do need to do your research!
The best ways to make money fast with affiliate commissions and without a blog/website are on Youtube and Pinterest.
With some sites you do need to have a blog/website, however not all of them have this requirement. Check here to see a list of affiliate networks.
Youtube
Youtube allows you to promote physical & digital products/courses etc through affiliate links. This basically allows you to earn money for promoting a company's (or your own) product.
For example, you could create a video (for FREE) on Youtube reviewing products, get unique affiliate links for the items and link each one in the description bar underneath the video.
Each product sale will earn you a commission. How amazing is that!
Pinterest
Affiliate marketing through Pinterest basically involves you sharing products you love using images/pins and when someone makes a purchase through your link you earn a commission off of that sale.
Affiliate links that link directly to purchase are allowed as long as you do not spam or mislead the visitor. Whatsmore is you can do all of this completely free!
Design beautiful images/pins and create an attention grabbing title and description to get clicks.
How much can I earn?
Possibilities are endless. Affiliate marketers out there have proven to make well over $100k a month.
The best way to make this kind of money is by starting a blog or website and providing valuable content to readers.
Learn How to Start making money with Affiliate Marketing, with and without a Blog TODAY, CLICK HERE >>
15. Set up shop on Etsy
Etsy is definitely as place for the creative and talented. There are no limits (really) of what you can sell on Etsy.
If you are a crafty or an artist, then Etsy is the best place to sell your work online.
Selling crafts or handmade items
Being creative on a platform like Etsy really pays off. There are people that make millions each year from their Etsy businesses and you can have a piece of the pie too!
Start by brainstorming ideas of what you'd like to sell and what your good at. Whatever it is chances are there is a market for it.
People are creating handmade natural body lotions, for example, packaging them and sending them to customers.
With the right branding, images, and product there is no reason you can't start doing the same thing today! Like now… get started.
Selling digital products
Before I started making money blogging, Etsy was a platform I used to sell my printables.
Printables are basically pieces of art, drawings, graphics, form pictures that you can download online and customers can print themselves.
This is an absolutely fantastic way of earning money passively online because you essentially create the 'design' once, upload it and make recurring commissions without having to do anything!
You can get started here for free!
If you don't have a creative bone in your body, there is still a way to make money at a very low cost.
You will need to go to Fiverr or Upwork and pay a design to create a custom product for you, like my daily productivity planners below:
Designer fees on these platforms can start as low as $5, but you could sell the product on etsy over and over again for $5 for example.
If you sell 100 printables, that's $500 in profit (after etsy fees) for something you only paid $5 for! Amazing right?
How much can I earn?
The amount of money you make depends on the price of your product, how unique your product is and how successful your store is.
Do your research and create a unique stand out product appealing to many people and you'll get more of an idea of your possible earnings.
16. Use your phone to make money
Making money with your smartphone has become easier over the last few years.
It's truly amazing how you can STILL easily make money from your phone.
Check out these money making apps and start earning extra cash every month.
Rakuten
Rakuten is a great way to earn a little extra income to stash away each month.
With Rakuten, you have the potential to earn up to 40% Cash Back on all of your purchases (depending on the store). They have a huge 2,500 stores to shop at.
Think of it as someone paying you to shop every day. You are going to make these purchases, so why not get paid to do just that?
As long as you use they link through the app, Rakuten will pay you a small commission. Soon it all adds up and you'll be able pay small bills every single month.
Companies pay Rakuten to send customers (like you) to their site. When you make a purchase, and Rakuten get paid, you'll earn a small commission of that pay in the form of cashback.
There are more ways to make money with Rakuten. Each time your refer a friend who earns cashback with Rakuten, you'll receive $25 and they get $10.
Dosh
Similar to Rakuten, Dosh pay out cashback when you make a purchase through their link.
Get paid for doing the things you already do.
Plus you'll get $5 for every friend you recommend!
Foap
Foap is an app that established or amateur photographers can use to make money from their pictures.
If you have a full time job and are looking to generate some extra cash by taking a few snaps, this is the app for you.
Do some research and learn which photos will make more money. Sell your photos to other photography services.
Stash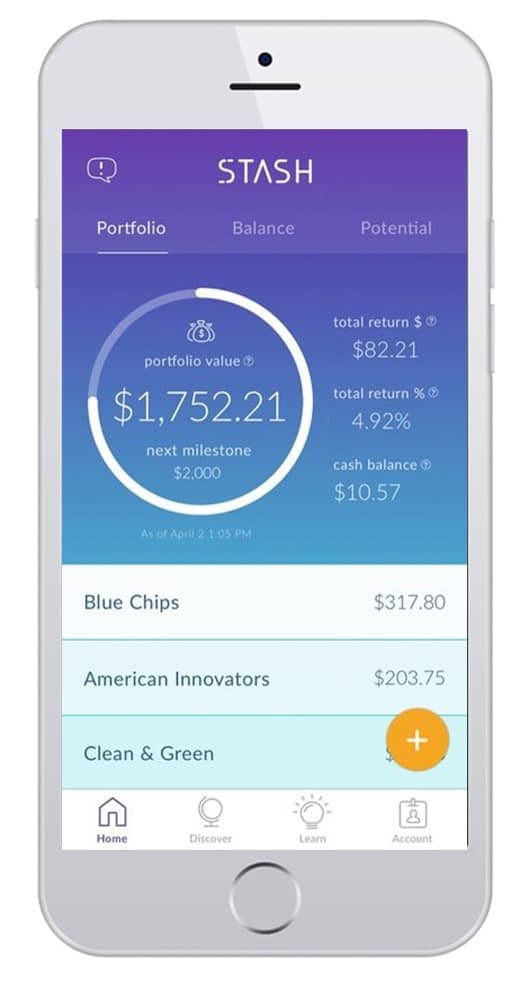 Many people know little about where to put their money or which investments will make them more money in the long run.
Stash makes investing simple and does most of the work for you.
With this money making app, you'll choose which industries you're interested in and Stash will give you a portfolio offering you the highest earning stocks with the least risk.
You'll be able to gradually grow your investments, from the extra dollars from your paycheck each month.
If Investing your money sounds like something you'd be interested in, but don't know where to start, then try investing a small amount and grow from there. Once you give them a little info about you, Stash really do take care of the rest.
Get started with Stash >>
17. Go shopping for cash
Why should you have a go at mystery shopping?
Well not only do you get to shop at your favourite stores but you paid to do it.
Say whaaaa?
Which side hustle is more fun than this one?
Mystery shopping is a flexible way of earning extra cash.
You receive 'assignments' from companies to visit a specific store and carry our various tasks (usually a purchase).
You then be asked questions such as how the service was or how easy was the product to find?
Doesn't sound too complicated?
Like Survey and Market research sites, companies like to gather information about how stores are performing and get feedback from normal shoppers (like you!).
Mystery Shopping sites such as i-Spy and BestMark do just that and they can pay you anywhere from $5 to $30 per assignment.
Before you take part in any assignment, make sure the task is worth it financially.
Why should you have a go at mystery shopping?
Well not only do you get to shop at your favourite stores but you paid to do it.
Say whaaaa?
Which side hustle is more fun than this one?
Mystery shopping is a flexible way of earning extra cash.
You receive 'assignments' from companies to visit a specific store and carry our various tasks (usually a purchase).
You then be asked questions such as how the service was or how easy was the product to find?
Doesn't sound too complicated?
Like Survey and Market research sites, companies like to gather information about how stores are performing and get feedback from normal shoppers (like you!).
Mystery Shopping sites such as i-Spy and BestMark do just that and they can pay you anywhere from $5 to $30 per assignment.
Before you take part in any assignment, make sure the task is worth it financially.
Summary
I really hope you've enjoyed the best ways to make money fast! Yes, it is possible to make money fast, like now.
Like every form of money making advice I offer here, it requires effort. Nowadays realistically you won't get something for nothing.
Put in the work, try a few of these methods today and you'll see results. Take it even further and make a legitimate business from one or more of these ideas and you could easily make well over $3,000 a month like I do!
Please let me know how you get on and comment below on other amazing ideas for making money online FAST! Good luck!
Follow us on

PINTEREST

for more money making tips!